on Thursday, March 19, 2015
A. Mitchell Innes Money Quotation saying the cash construct requires a belief in imaginary elements that make up a dollar bill and any debt it can pay is satisfied by that fantasy. A. Mitchell Innes said:


"The eye has never seen, nor the hand touched a dollar. All that we can touch or see is a promise to pay or satisfy a debt due for an amount called a dollar" — A. Mitchell Innes
Share </> Quote Image
Share the A. Mitchell Innes Money quote image above on your site:


Short Link to this Quote:
[collapse]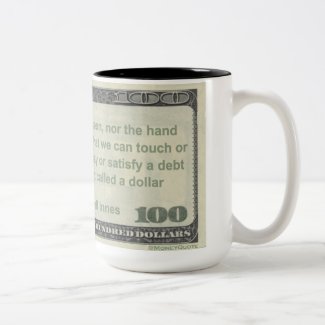 Eye has Never Seen a Dollar Quote Mug
by
itsamoneything
Make unique
photo mugs fast
from Zazzle.