Posts Tagged 'due'
on Saturday, April 13, 2019
Madeleine Begun Kane Money Quote saying taxes cause everyone to be stressed out and confused by tax forms in April each year. Madeleine Begun Kane said:


"Why does tax filing time cause such stress? Wretched forms to fill out—it's a mess! All confused, you say, "Heck!" Then you write out a check For what's due or, at least, your best guess" — Madeleine Begun Kane

Share the Madeleine Begun Kane Money quote image above on your site:


Short Link to this Quote:
on Thursday, March 19, 2015
A. Mitchell Innes Money Quotation saying the cash construct requires a belief in imaginary elements that make up a dollar bill and any debt it can pay is satisfied by that fantasy. A. Mitchell Innes said:


"The eye has never seen, nor the hand touched a dollar. All that we can touch or see is a promise to pay or satisfy a debt due for an amount called a dollar" — A. Mitchell Innes

Share the A. Mitchell Innes Money quote image above on your site: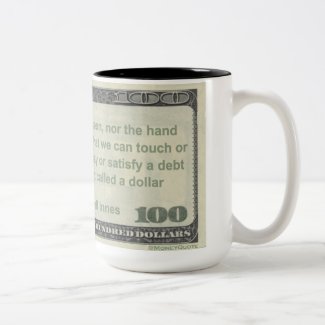 Eye has Never Seen a Dollar Quote Mug
by
itsamoneything
Make unique
photo mugs fast
from Zazzle.